Coin Types from Panama

km#6 1/2 Centesimo (1907)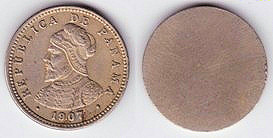 km#6 1/2 Centesimo (1907) Error: blank reverse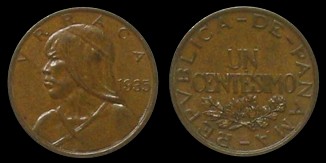 km#14 1 Centesimo (1935,1937)

km#17 1 Centesimo (1953) Anniv. of Republic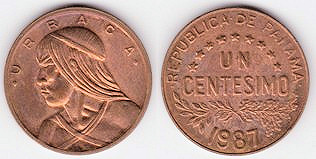 km#22 1 Centesimo (1961-1987)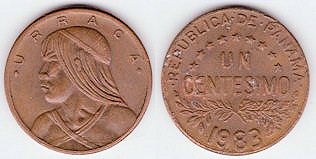 km#22a 1 Centesimo (1983) copper-coated zinc

km#33 1 Centesimo (1975-1982)

km#45 1 Centesimo (1978) 75 years of Independence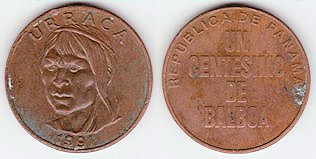 km#124 1 Centesimo (1991-1993)

km#125 1 Centesimo (1996)

km#132 1 Centesimo (2000) FAO Food Security

km#15 1.25 Centesimos (1940)

km#1 2.5 Centesimos (1904) Panama Pill

km#7.1 2.5 Centesimos (1907)

km#7.2 2.5 Centesimos (1916)

km#8 2.5 Centesimos (1929)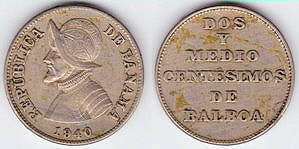 km#16 2.5 Centesimos (1940)

km#32 2.5 Centesimos - FAO Issue (1973,1975)

km#34 2.5 Centesimos (1975-1982) "pill" size

km#2 5 Centesimos (1904,1916)

km#9 5 Centesimos (1929,1932)

km#23.1 5 Centesimos (1961)

km#23.2 5 Centesimos (1962-1993)

km#35.1 5 Centesimos (1975-1982) Carlos Finlay

km#47 5 Centesimos (1978) 75 yrs. Independence

km#126 5 Centesimos (1996)

km#133 5 Centesimos (2001) Sara Sotillo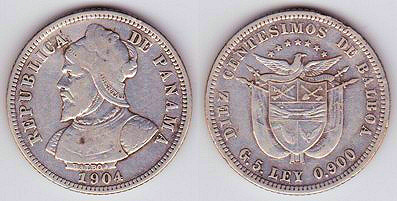 km#3 10 Centesimos (1904)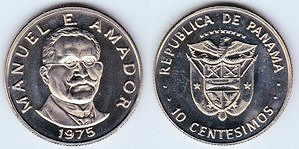 km#36.1 10 Centesimos (1975-1982) Manuel E. Amador

km#48 10 Centesimos (1978) 75 yrs. Independence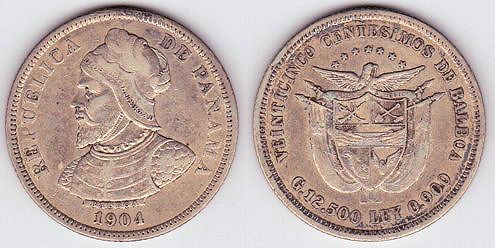 km#4 25 Centesimos (1904)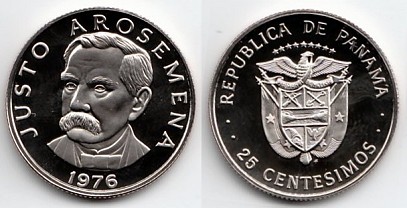 km#37.1 25 Centesimos (1975-1982) Justo Arosemena

km#49 25 Centesimos (1978) Justo Arosemena

km#135 25 Centesimos (2003) Spanish Ruins

new 25 Centesimos (2005) Stone bridge

km#5 50 Centesimos (1904-1905)

km#38.1 50 Centesimos (1975-1982) Fernando de Lesseps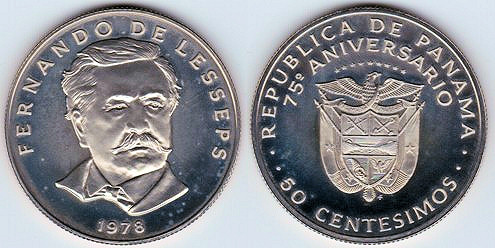 km#50 50 Centesimos (1978) Fernando de Lesseps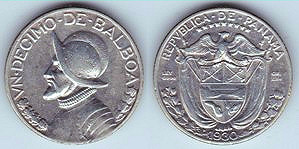 km#10.1 1/10 Balboa (1930-1947) High relief

km#10.2 1/10 Balboa (1962) Low relief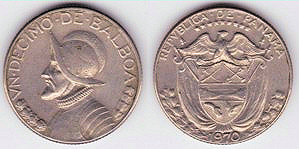 km#10a 1/10 Balboa (1966-1993)

km#18 1/10 Balboa (1953) 50 yrs. of Republic

km#24 1/10 Balboa (1961)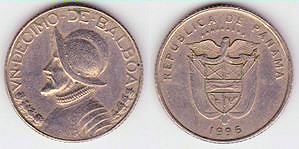 km#127 1/10 Balboa (1996)

km#11.1 1/4 Balboa (1930-1947)

km#11.2 1/4 Balboa (1962) low relief

km#11a 1/4 Balboa (1948-1993)

km#19 1/4 Balboa (1953) 50 yrs. of Republic

km#25 1/4 Balboa (1961)

km#88 1/4 Balboa (1983-1985) medal rotation

km#128 1/4 Balboa (1996)

new 1/4 Balboa (2008) Breast Cancer Awareness

new 1/4 Balboa (2008) Childrens Hospital

km#12.1 1/2 Balboa (1930-1947)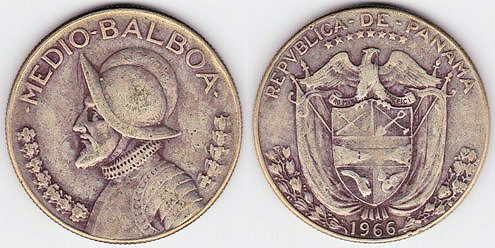 km#12a.1 1/2 Balboa (1966-1993)

km#12b 1/2 Balboa (1973-1993) cu-ni clad copper

km#20 1/2 Balboa (1953) Cincuentenario

km#26 1/2 Balboa (1961)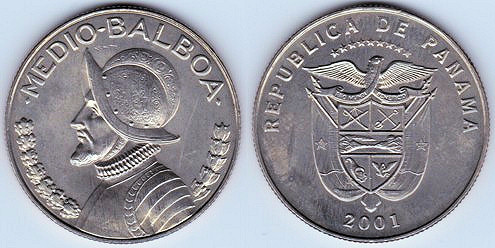 km#129 1/2 Balboa (1996,2001)

km#13 1 Balboa (1931-1947) Vasco Nunez de Balboa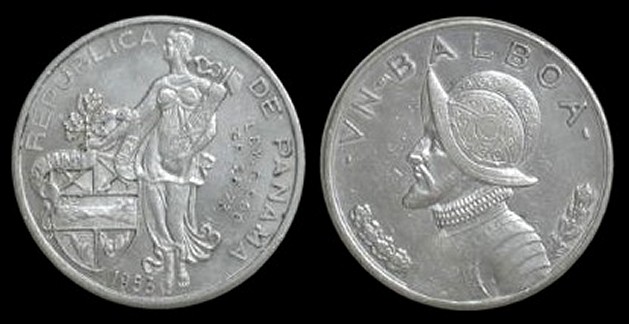 km#21 1 Balboa (1953) 50 yrs. Republic

km#27 1 Balboa (1966-1974)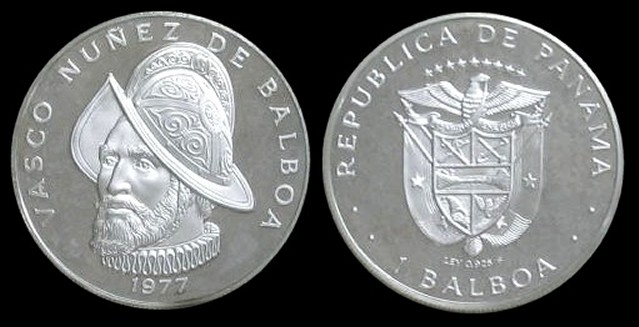 km#39.1a 1 Balboa (1975-1979)

km#76 1 Balboa (1982-1984) Gen. Omar Torrijos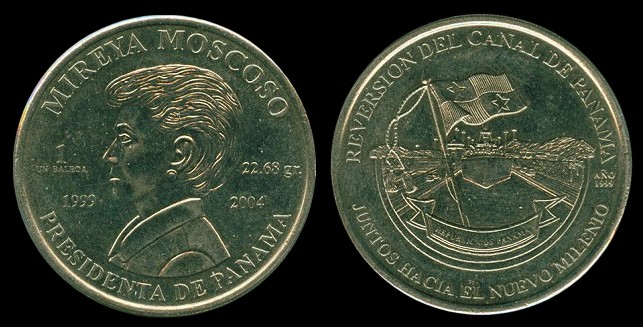 km#134 1 Balboa (1999) Mireya Moscoso

km#28 5 Balboas (1970) Central American Games

km#30 5 Balboas (1972) F.A.O.

km#40.1a 5 Balboas (1975-1979) silver

km#40.2 5 Balboas (1975-1982) Belisario Porras

km#58 5 Balboas (1979) Panama Canal Treaty

km#31 20 Balboas (1972-1976)
---
Palo Seco Leprosarium

km#Tn1 1 Cent (1919)

km#Tn2 5 Cents (1919)
<--Return to Main Index
This is my collection of world coins. Here you will find foreign coin photos, coin values and other information useful for coin collecting. Some coins came from the coin mint, some came from coin dealers, some came from coin auction. Some are stored in coin folders, others are stored using other coin supplies. Many of these coins are silver coins and a few are gold coins. This information is useful for coin collecting software and cataloging coin types and coin values in U.S. dollars.