Coin Types from Ecuador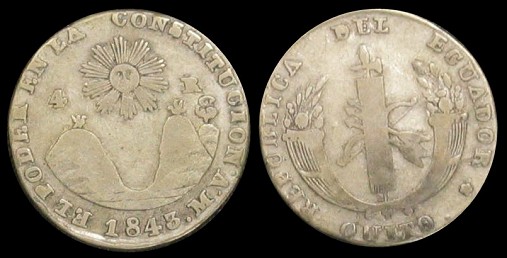 km#24 4 Reales (1841-1843)

km#37 4 Reales (1855,1857)

km#55.1 1/2 Decimo (1902-1912)

km#55.2 1/2 Decimo (1915)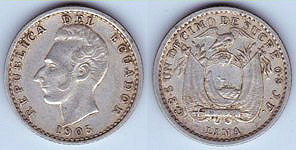 km#50.3 1 Decimo (1892-1912)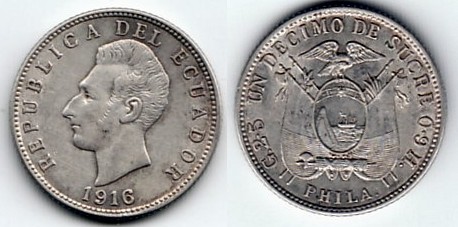 km#50.5 1 Decimo (1916)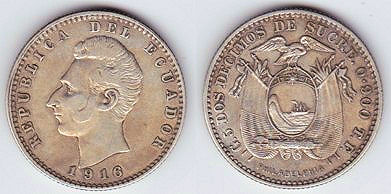 km#51.4 2 Decimos (1914,1916)

km#54 1/2 Centavo (1890)

km#67 1 Centavo (1928)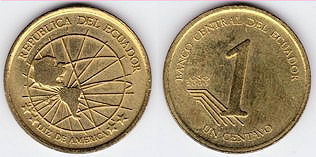 km#104 1 Centavo (2000)

km#104a 1 Centavo (2003) copper-plated steel

km#59 2 Centavos (1909)

km#60 5 Centavos (1909-1918)

km#63 5 Centavos (1919)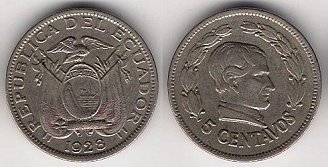 km#69 5 Centavos (1928)

km#75 5 Centavos (1937)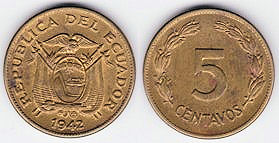 km#75a 5 Centavos (1942,1944)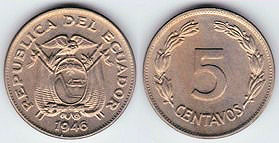 km#75b 5 Centavos (1946) copper nickel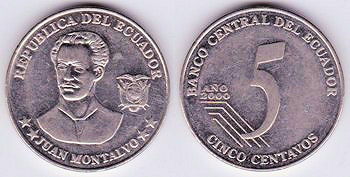 km#105 5 Centavos (2000)

km#62 10 Centavos (1918)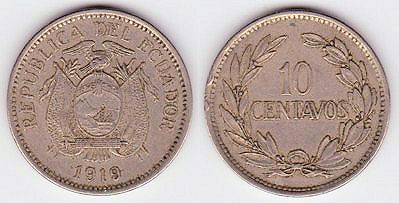 km#64 10 Centavos (1919)

km#66 10 Centavos (1924)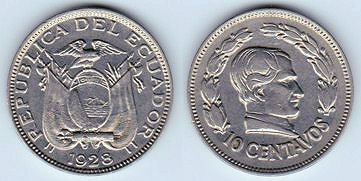 km#70 10 Centavos (1928)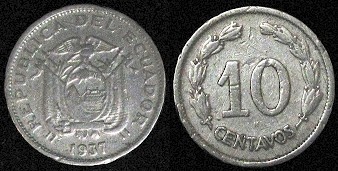 km#76 10 Centavos (1937)

km#76a 10 Centavos (1942)

km#76b 10 Centavos (1946)

km#76c 10 Centavos (1964-1972) nickel clad steel

km#76d 10 Centavos (1976) cu-ni clad steel

km#106 10 Centavos (2000)

km#77.1 20 Centavos (1937)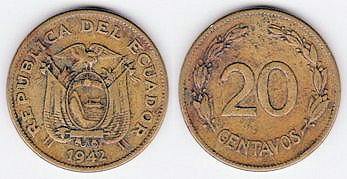 km#77.1a 20 Centavos (1942,1944)

km#77.1b 20 Centavos (1946) cu-ni

km#77.1c 20 Centavos (1959-1972)

km#77.2 20 Centavos (1974)

km#77.2a 20 Centavos (1974-1981)

km#107 25 Centavos (2000)

km#71 50 Centavos (1928,1930)

km#81 50 Centavos (1963-1982)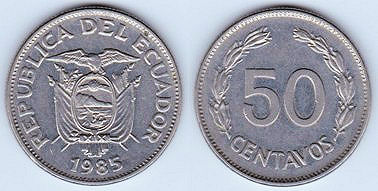 km#87 50 Centavos (1985) modified arms

km#90 50 Centavos (1988)

km#108 50 Centavos (2000) Eloy Alfaro

km#72 1 Sucre (1928-1934)

km#78.2 1 Sucre (1946)

km#78a 1 Sucre (1959) cu-ni

km#78b 1 Sucre (1964-1981)

km#83 1 Sucre (1974-1977)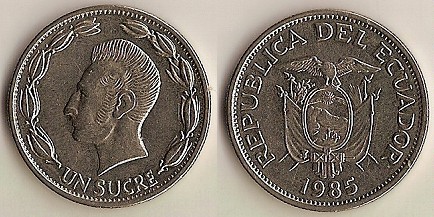 km#85.1 1 Sucre (1985) large head

km#85.2 1 Sucre (1985,1986)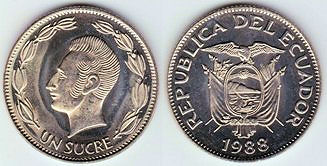 km#89 1 Sucre (1988-1992)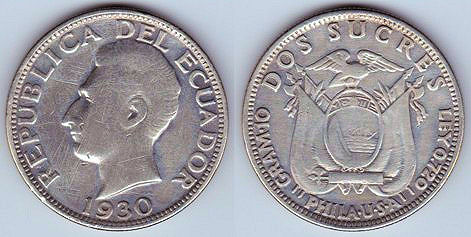 km#73 2 Sucres (1928,1930)

km#80 2 Sucres (1944)

km#79 5 Sucres (1943-1944)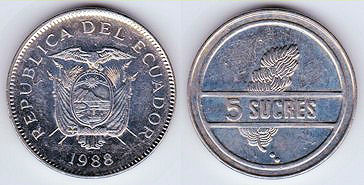 km#91 5 Sucres (1988-1991)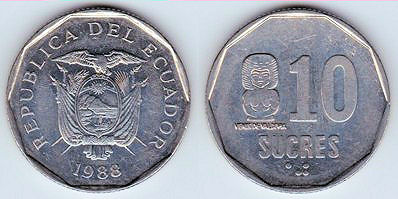 km#92.1 10 Sucres (1988) small arms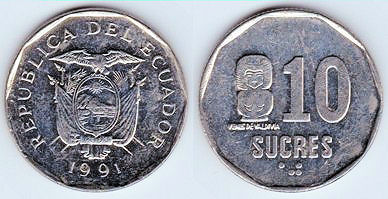 km#92.2 10 Sucres (1991) large arms

km#94.1 20 Sucres (1988)

km#94.2 20 Sucres (1991)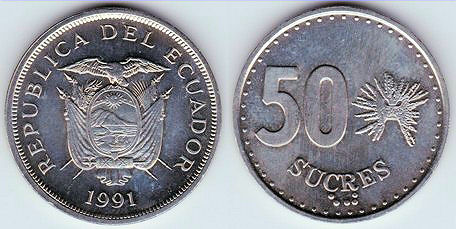 km#93 50 Sucres (1988,1991)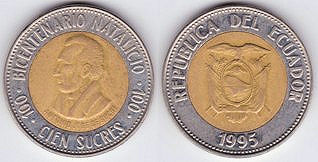 km#96 100 Sucres Bicentennial (1995)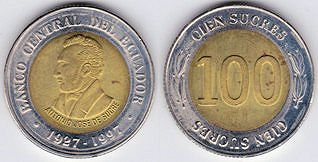 km#101 100 Sucres (1997)

km#97 500 Sucres State Reform (1995)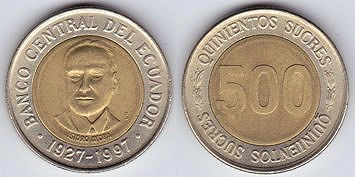 km#102 500 Sucres (1997)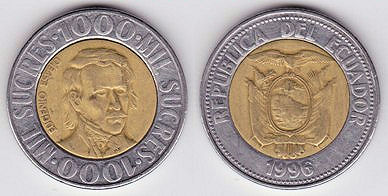 km#99 1000 Sucres (1996)

km#103 1000 Sucres (1997)
---
Galapagos Islands: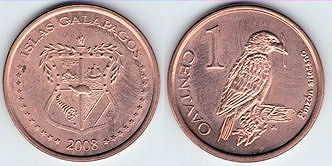 new 1 Centavo (2008) Darwins Finch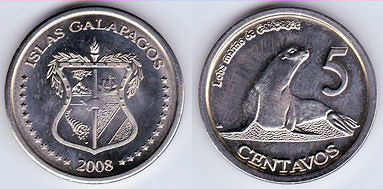 new 5 Centavos (2008) Sea Lion

new 10 Centavos (2008) Marine Iguana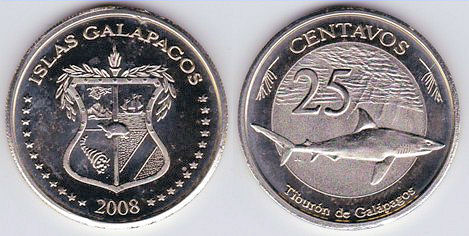 new 25 Centavos (2008) Galapagos Shark

new 50 Centavos (2008) Masked Booby bird

new 1 Dolar (2008) Galapagos Penguin

new 2 Dolares (2008) Galapagos Cormorant

new 5 Dolares (2008) Galapagos Tortoise
<--Return to Main Index
This is my collection of world coins. Here you will find foreign coin photos, coin values and other information useful for coin collecting. Some coins came from the coin mint, some came from coin dealers, some came from coin auction. Some are stored in coin folders, others are stored using other coin supplies. Many of these coins are silver coins and a few are gold coins. This information is useful for coin collecting software and cataloging coin types and coin values in U.S. dollars.